In this section:
---
The innovative and science-led cosmetics industry undertakes vital work on safety, sustainability and self-esteem and wellbeing.  CTPA works with partners to showcase a conscientious, world-leading industry that truly cares for people and our planet and is constantly striving to improve.
"While it is certainly an uncertain time, it is also an incredible time to be part of Team CTPA. Thanks to the Association's rich heritage in offering credible, science-led consultancy on risk and regulation, team members have found their voices are being welcomed where it really matters.
"I am proud to champion progressive thinking that challenges the science status-quo; proud to be playing a role in shaping our industry's future; and as Director-General I am also incredibly proud of the expert CTPA team that is blazing this trail."
Dr. Emma Meredith, Director-General, CTPA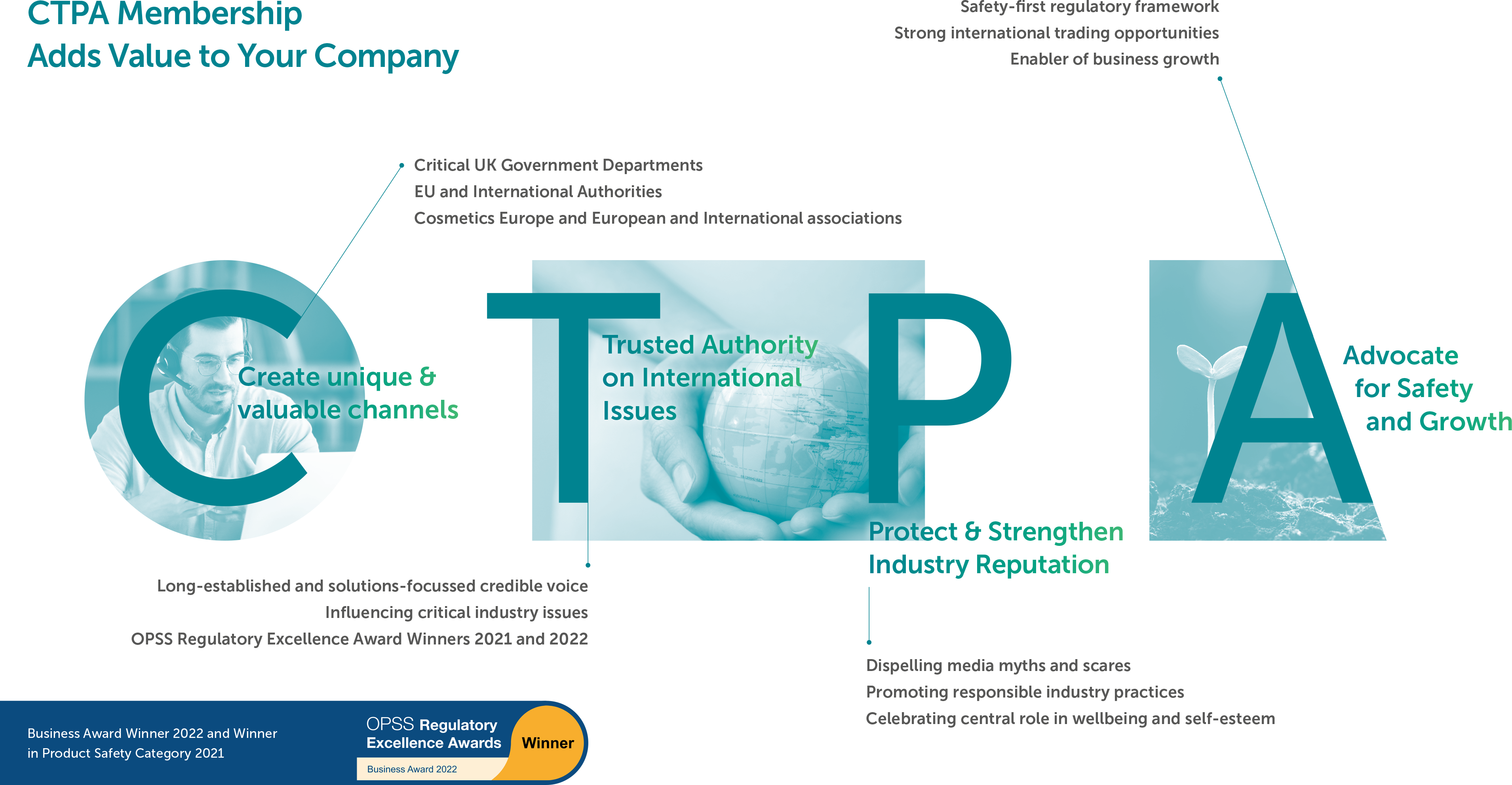 ---
Championing a Robust UK Regulatory Framework
Strong and respected relationships with all relevant UK Government departments ensure that the regulatory landscape for cosmetic products and their ingredients are fit for purpose.   
This involves regular contact with officials, Special Advisors and Ministers at the Department for Business and Trade (DBT), Office for Product Safety & Standards (OPSS), Trading Standards, Department for Environment, Food & Rural Affairs (Defra), Home Office, HM Treasury, HM Revenue & Customs, Competition & Markets Authority (CMA), Medicines and Healthcare products Regulatory Agency (MHRA), Health & Safety Executive (HSE), Environment Agency, Advertising Standards Authority (ASA) and Clearcast. 
CTPA also has a Primary Authority Coordinated Partnership with Essex Trading Standards to provide assured advice to CTPA members.
CTPA continues to help members to adapt and familiarise themselves with the new requirements, as the UK is now a third country to the EU.  CTPA monitors the political landscape and is working closely with Government as new processes are established; for example, ingredient management and future chemicals strategy.  
---
Advocating for Industry
CTPA is an active advocate for the cosmetics industry and its contribution to our health, hygiene and wellbeing.  The Association represents the UK cosmetics and personal care industry through one strong and unified voice, ensuring industry remains competitive and our legislation is risk-based, evidence-led and driven by science.  As the voice of the UK cosmetics industry, working closely with the UK Government and other critical stakeholders, CTPA is the credible authority for an industry trusted to act responsibly for the consumer.  
As we emerge from the challenges of a global pandemic and the UK's exit from the European Union, CTPA is passionate about enabling this innovative, vibrant industry to adapt to the new UK regulatory framework and be competitive in the global marketplace ensuring the UK is seen as a viable market for both import and export.
In addition to enabling members to succeed within the regulatory framework, CTPA is leading the cosmetics industry towards becoming net positive.  Building on the great work members are doing individually on sustainability, the Association is bringing members together to share best practice and drive system-wide change to represent a balanced, conscientious, world-leading industry. CTPA will continue to work closely with colleagues at Cosmetics Europe to drive sustainability principles, lending our scientific and regulatory expertise to help advocate for environmental legislation that is grounded in robust scientific evidence not only in the UK, but also at European and global levels.
Our industry continues to prove time and again that creativity, innovation, responsibility and inclusivity are able to come together to meet consumers' needs, expectations and aspirations. As an industry, our products support the self-esteem and wellbeing of every single individual, and our products are an essential part of today´s society.
CTPA will continue to build on its well-earned reputation to face these challenges on a world stage. 
---
Acting Globally
The cosmetics industry is a global industry and CTPA is an active member of Cosmetics Europe, the European personal care association, as well as contributing to the International Associations Collaboration and liaising with our international colleagues in national associations worldwide. This ensures that we can provide our members with the very best up-to-date advice whilst working collaboratively to resolve challenges for the industry.
In addition, supporting the UK Government's observer status on the International Cooperation on Cosmetics Regulation (ICCR) enables the CTPA to be close to regulatory discussions at a global level. 
Working with the DIT and members, CTPA is contributing to Free Trade Agreements and has collaborated with the UK Government on GMP certificates for China and market access barriers for Indonesia.
---
Informing Media and Consumers
CTPA represents a strictly regulated industry that provides safe and effective products that are essential to our daily lives enhancing health, hygiene and wellbeing from oral care to hair care, deodorants to sunscreens, soaps to hand gels.
As myths can spread rapidly, it is important that the science and facts can be accessed in a timely fashion.  CTPA's consumer site, www.thefactsabout.co.uk, provides the media with rapid, scientifically rigorous responses to help them offer balanced reporting on the science behind cosmetic products and to put new research into perspective. Consumers can trust the products they use daily and it is important to explain that the myths and misinformation often found on the internet bear no relation to the safe use of ingredients in cosmetic products under the strict cosmetics laws.