Representing all types of companies involved in making, supplying and selling cosmetic and personal care products, the Cosmetic, Toiletry and Perfumery Association Ltd. (CTPA) acts as the voice of the UK industry.

As the voice of the industry, our key roles are:
Promoting the strengths of a well-regulated industry;
Promoting best practices by working with all stakeholders to ensure high quality cosmetic products are made to the highest possible safety standards;
Providing scientific strength and a credible coordinated voice to the UK government, the EU authorities (through our European Association, Cosmetics Europe), the media and other key stakeholders;
Maximising the opportunities for companies to innovate and provide consumers with the choice they demand.
---
"Trade Associations exist to enable their members to succeed in whatever regulatory framework they operate. Challenges are inevitable, and the challenges facing the cosmetics industry are diverse, impacting locally and globally.  CTPA, in working for its members, will continue to build on its well-earned reputation to face these challenges on a world stage."
Dr Emma Meredith, Director-General, CTPA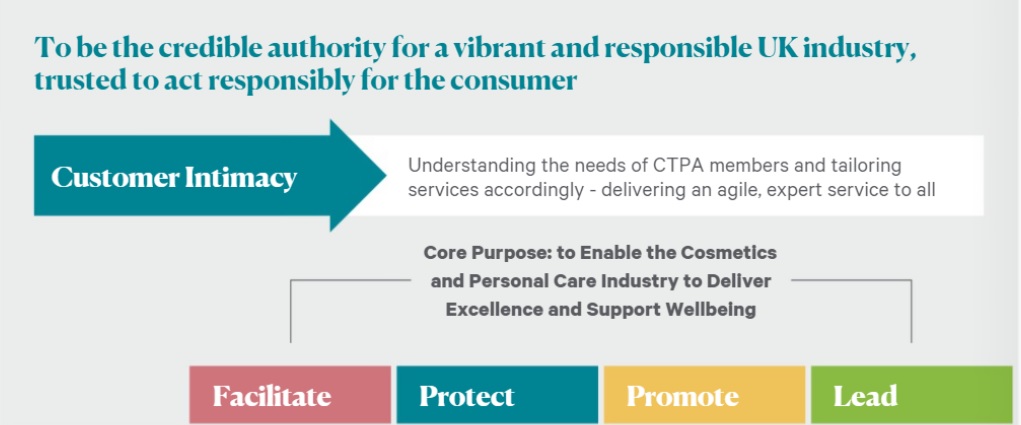 CTPA was first incorporated in 1945, then as the Toilet Preperations and Perfumery Manufacturers Federation of Great Britain Limited.
CTPA is an active participator within Cosmetics Europe, the European personal care association, contributing to committees and discussions with the European institutions. We have day-to-day contact with the key UK Government departments that control the safety and supply of cosmetic products in the UK. CTPA is actively engaging with members and committees about the impact of Brexit and next steps for companies in the cosmetic and personal care industry upon leaving the European Union. CTPA is also working with the UK Government departments to help feed into the negotiation and ensure the key messages from the cosmetics industry are addressed.
By maintaining an extensive network of national association contacts, we are also able to ensure a good information flow to and from our members on country issues that may affect their ability to export, including those areas outside of Europe.
The CTPA works with the media, key stakeholders and opinion formers to show how cosmetics have a positive role in society. Used daily by millions of people worldwide, our industry's products help people feel more confident in their appearance, enhance their feeling of wellbeing and contribute to positive self-esteem.
CTPA is working tirelessly to implement a sustainability strategy that will take our unique position as the trade association for the cosmetics industry and use it to create a space for collaboration between member companies at a pre-competitive level. Our strategy, 'Driving Towards a Net Positive Cosmetics Industry', tackles the environmental and social issues of sustainability, helping companies work towards this goal with best practice guidance, case studies, mentoring and initiatives with stakeholders to work towards systemic change.
Our own consumer website, www.thefactsabout.co.uk, holds a wealth of information about the science behind products, explaining about safety assessments, ingredient issues and the strict rules governing the safety of such products as toothpaste, hair colorants, sun protection, make-up, fragrance, personal care etc.