The Facts
The labels on all cosmetic and personal care products must contain a list of ingredients used. This information is identical for the same product across the European Union, including Northern Ireland, and in the market of Great Britain.
Some people may be allergic to one or more ingredients that are used in cosmetic products. These allergies must first be diagnosed by a doctor, who will advise the patient of the relevant ingredient name(s). Then, by checking the ingredients on the label, the patient knows which products to avoid.
If the container is in an outer package (e.g. a carton) the labelling will be on the carton. If there is no outer packaging the labelling will be on the container.
For products that are small and difficult to label, there are special exceptions. Here the ingredient listing may be on a leaflet, this being indicated by the use of a hand pointing to an open book logo on the outer packaging.
Alternatively, the ingredient listing should be displayed close to where the product is offered for sale.
The Principles
The nomenclature for use in the ingredient declaration is set out in the cosmetic inventory, known as INCI (International Nomenclature for Cosmetic Ingredients). The INCI list can be viewed online on the European Commission website for cosmetics. It was published as Commission Decision (EU) 2019/701.
This list contains over 26,000 ingredient names and will be kept up to date by the European Commission.
These same principles apply in the UK, under the UK Cosmetics Regulation (EC) No. 1223/2009 (UKCR).
The INCI names (International Nomenclature for Cosmetic Ingredients) for "chemical" ingredients are based principally on the International Dictionary produced by the US trade association for cosmetic and personal care products.
There are also conventions for:
"Parfum" indicating the presence of perfume,
"Aroma" indicating the presence of flavour,
[+/- ...] means the product (decorative cosmetics only) may contain any or all of the colours listed.
The Look
Below we have illustrated the contents requirements of ingredient labelling.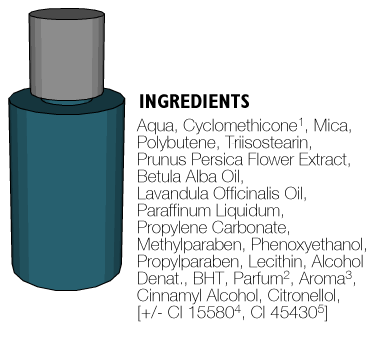 The INCI name which appears in the European Cosmetics Glossary.
The generic name for any perfume ingredient or composition.
The generic name for flavour.
[+/- ...] For decorative cosmetics marketed in several shades, all colouring agents used in the range may be listed preceded by the words 'may contain' or '+/-'.
Colours listed by Colour Index Number (may be listed in any order).