At the beginning of 2020, the UK was still a member of the EU, but the days of being an active member of this international community were numbered.  It was clear that the cosmetics industry would have to prepare for exit from the EU on the 31st of January 2020 and subsequently, leaving the EU Single Market on the 31st of December 2020.  It was hoped that the transition period between these two dates would:
firstly, give the UK and EU time to re-establish their relationship, which was consolidated into the EU-UK Trade and Cooperation Agreement (EU-UK TCA) announced on the 24th December 2020;
secondly, allow businesses to have greater access to the international trade landscape as the UK, through the Department for International Trade (DIT), formalised the plan to cover at least 80% of UK trade under a free trade agreement; and
thirdly, for the cosmetics industry to analyse how the changes in the supply chain could affect the ability of UK businesses to be present in international markets.
These alone would have presented challenges during a normal year, but 2020 cannot be considered a normal year by any means. 
---
Year-on-Year UK Import and Export

The trade value of the cosmetics and personal care sector in regard to both imports and exports reverted back to levels comparable with 2016.
---
Trade Balance
The decline in trade made a smaller impact on the overall trade balance, as both export and import values lowered.  The EU is still the UK's main trading partner, but in 2020 it was still a part of the EU Single Market.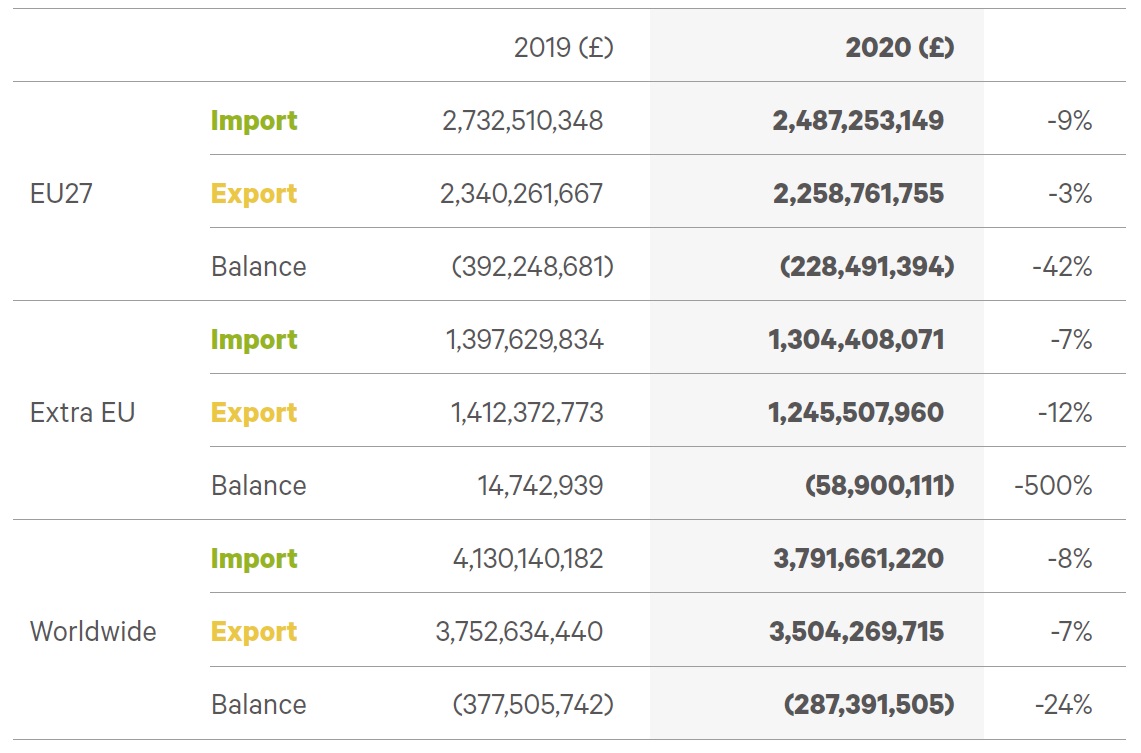 ---
Trade Values 2020


---
CTPA has ensured that the UK industry has been kept informed, and members have been able to provide input, to the major regulatory changes across major worldwide cosmetic markets. 
For the full report, see the download of 'The UK in the Global Landscape' or view in the CTPA's 2020 Annual Report.
Source: https://www.uktradeinfo.com/ (2019/2020 data as of Q1 2021)