The CTPA remains committed in its support to the UK cosmetics industry and the ability to access a global market. During 2019, an International Strategy for CTPA was set in place that will see us through the next five years and set the pace for our future. The premise of the strategy has been centred around a simple idea: the need to adapt, learn and focus.
CTPA is engaging with the Department for International Trade (DIT) as the Free Trade Agreements (FTA) are negotiated and to seek resolution to market access issues.
---
In this section, the opportunities and challenges for the UK cosmetics industry across the world are shown with the trade data.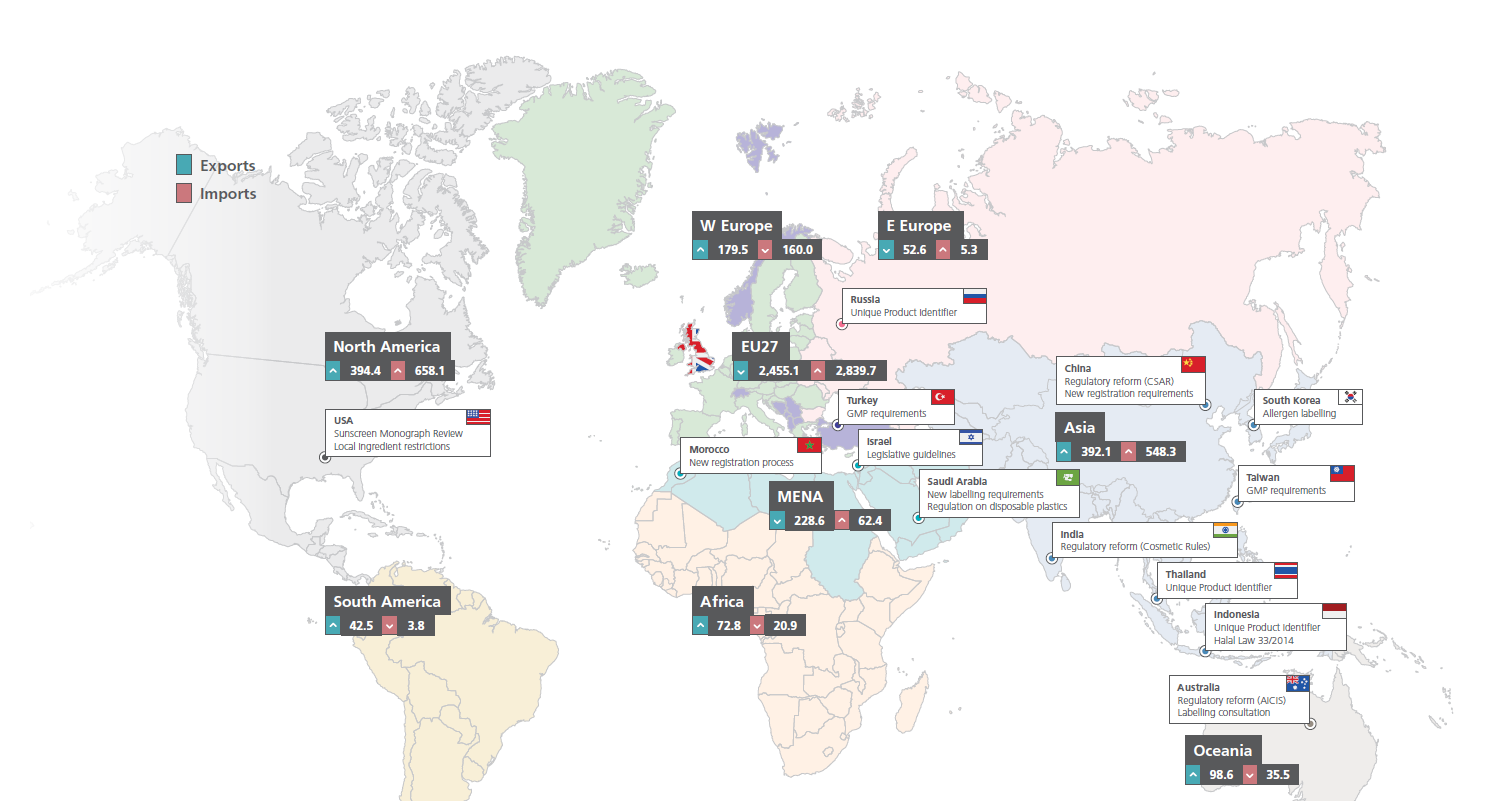 The overall trade landscape has not experienced any major shifts and we continue to maintain established trade relationships. Trade balance remains relatively stable but in trade deficit. This deficit was increased during 2019 in trade within the EU, but was decreased slightly in our worldwide trade. When considering regions, the EU continues, as expected, to be the main trading partner for the UK, as it still benefits from access to the Single Market and a common regulatory framework. With 65.5% of all exports and 62.7% of all imports, the EU surpasses any other markets.
Not surprisingly, North America and Asia continue to be main markets for imported goods in the UK with 15.2% and 12.6% respectively, while they are both around the 10% mark for exported goods. Notably also on exported cosmetic products, the MENA region remains an attractive market for the UK industry settling in at 5.8% value of all exported goods.

---
'The UK in the Global Landscape' report can be downloaded here and is also available in the CTPA's 2019 Annual Report. This includes an overview of worldwide import/export trade data and the regulatory challenges worldwide for the cosmetics industry.