Cosmetics Europe - the personal care association, regularly reports on the European* cosmetics market which, in 2018, was worth EUR €78.6 billion at retail sales price making Europe the largest cosmetics market in the world. Among the European countries, Germany has the largest market for cosmetics, valued at EUR €13.8 billion, followed by France (EUR €11.4 billion), the UK (EUR €10.9 billion) and Spain (EUR €10.1 billion).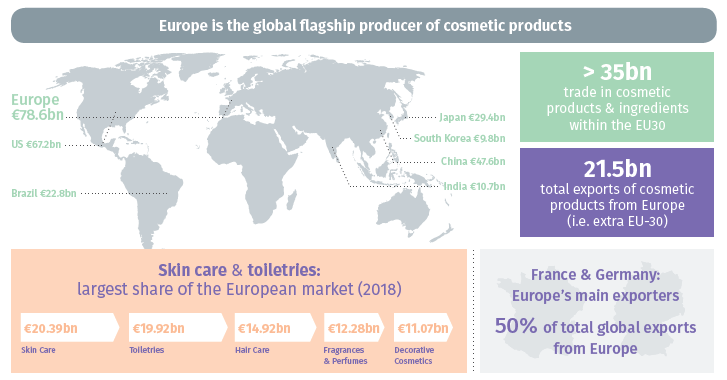 * references to European market/EU on this page refer to EU 28 plus Norway and Switzerland
The vast majority of Europe's 500 million consumers use cosmetic and personal care products contributing to well-being and healthy lifestyles, and positive self-esteem every day. Ranging from antiperspirants, fragrances, makeup and shampoos, to soaps, sunscreens and toothpastes, cosmetics play an essential role in all stages of our life. A recent consumer insights survey by Cosmetics Europe found has shown that 72% of people believe that cosmetics improve their quality of life, while 74% of people believe that cosmetics helps them to build up their self-esteem.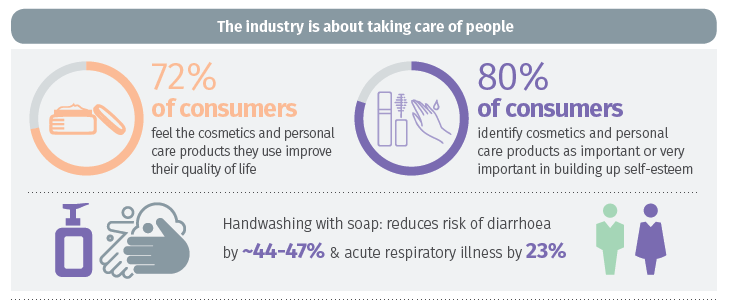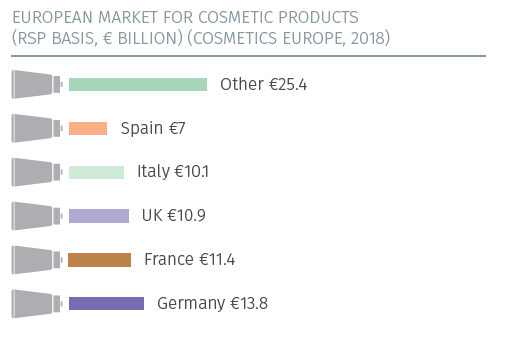 At 78.6 billion Euros the cosmetics industry makes a significant social and economic contribution to the European economy. It's estimated that the cosmetics industry in Europe brings at least EUR €29 billion in added value to the European economy every year, of which approximately EUR €11 billion of which is contributed directly by the manufacture of cosmetic products (the remaining EUR €18 billion is generated indirectly through the supply chain).

The strength of the entrepreneurial cosmetics industry lies in the mix of both big and small companies. SMEs are key drivers of innovation and economic growth. There are more than 5800 SMEs in Europe and the number is growing.


The industry supports well over 2 million jobs across the European value chain, with 60% women and 40% men being employed in the cosmetics industry. Every 10 workers employed by the European cosmetics industry will support 2 jobs in the value chain. 197,000 people are employed directly by the cosmetics and personal care industry in Europe with a further 1.63 million people employed indirectly.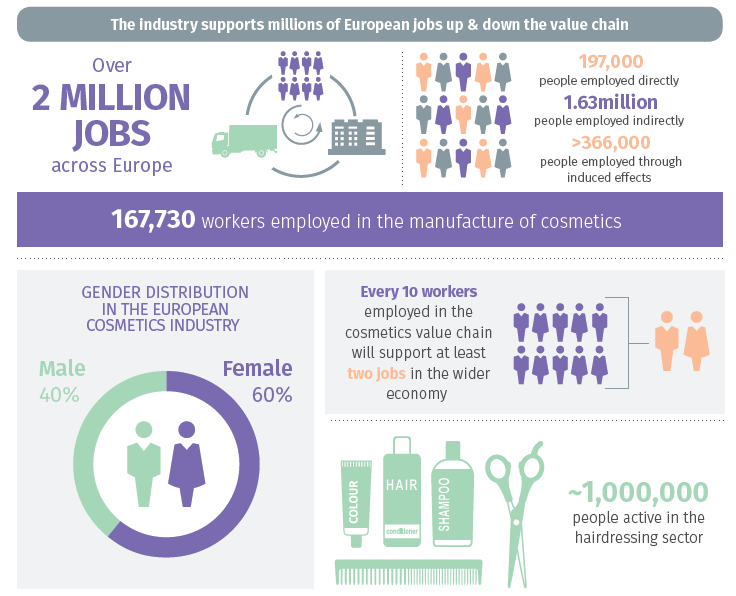 The European cosmetics industry is a science-driven, fast-paced and a highly innovative sector which makes large investments in R&D. Total expenditure on R&D in Europe is circa EUR €2.35 billion. More than 28,800 scientists are employed in the sector covering a diverse range of scientific disciplines. Companies operating in the cosmetics industry frequently collaborate with other organizations when they undertake research, where this includes European universities, scientific research institutes, NGOs and start-ups. This innovation led science has brought about systemic change in the cosmetics industry; between 2012 and 2017, 97.6% of all plastic microbeads used for cleansing and exfoliating in wash-off cosmetic and personal care products were phased out.
The industry places a strong emphasis on ensuring corporate social and environmental responsibility and supporting proactive voluntary and self-regulatory initiatives. See Cosmetics Europe website for more information on European industry action.

Source: Cosmetics Europe provides comprehensive statistics on the European market (price EUR 25 to non-members of CE).