Representing Members worldwide
Over 175 Members representing small, medium, large and multi-national companies supplying the UK market
Companies include manufacturers, distributors, ingredient suppliers, contract laboratories, contract manufacturers, retailers of own brand
Representing around 85% by value of the £9,769.4 million UK market supply (2017 retail sales value)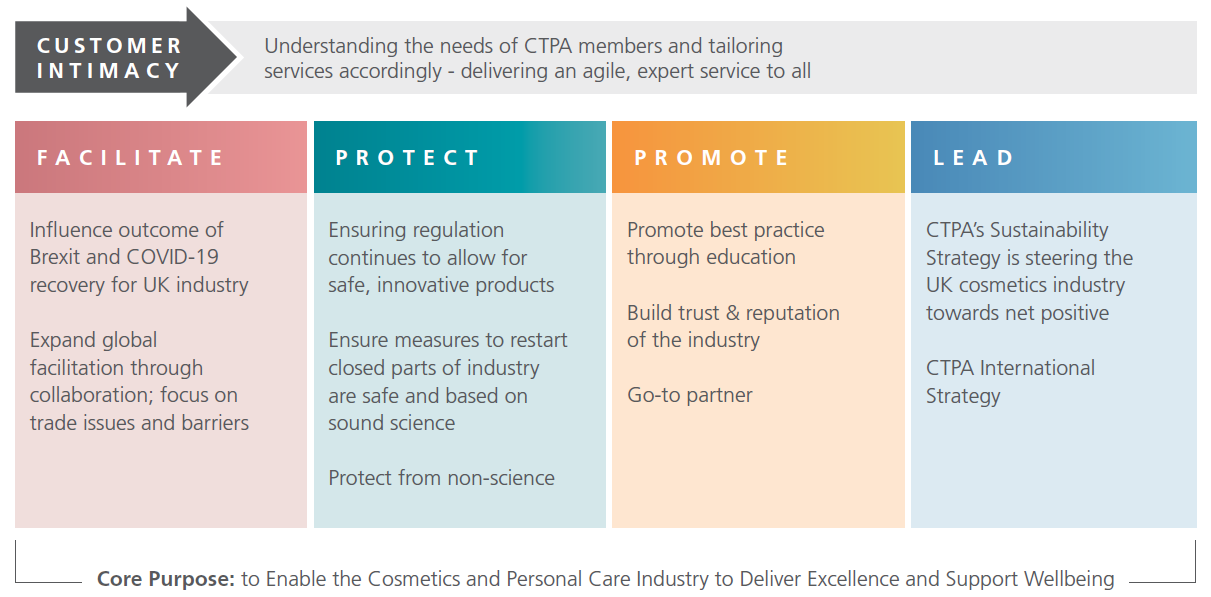 Working with Members
24/7 members-only intranet full of useful guidance, up-to-date news and with time-saving issue tracking - everyone in your company can access this tool wherever they are in the world
Cosmetics Masterclass - free workshops for members at CTPA to help maximise your membership
Topic Specific Seminars and committee meetings driven by area of competence or issue
CTPA Presentations at your company and at external meetings

Our Key Objectives
Work with all key stakeholders to provide creative, pragmatic solutions to new issues
Individual confidential advice provided to members by experienced regulatory, scientific and technical staff on anything from ingredient issues to best practice manufacturing guidance
Intercept media issues with fast, robust rebuttal
Positive proactive communications to build confidence and trust in the industry's safe, effective products
Promote the CTPA's www.thefactsabout.co.uk website as THE research resource for journalists, consumers, stakeholders and members
Be seen as the leading trade association, offering value for money to members and setting the bar high
"...membership is what you make of it - the value comes from contributing and using the vast resources at your disposal."
Debbie Hunter, Director of Commercial Affairs, CTPA
Applying for Membership
Applying for membership is very simple. Download the enquiry form by pressing the button below, completing the information about your company to enable us to determine the class of membership you may be eligible for.
This is a first step to becoming a member but you are under no obligation to complete the process.
After receiving your form we will contact you to confirm your eligibility and category of membership and invite you to spend time with the Association's staff to fully understand how membership could assist you. A formal application form completes the process after this.
CTPA takes the privacy and protection of personal data very seriously and complies with the requirements of the General Data Protection Regulation (GDPR). The CTPA's Privacy Policy explains how we collect, store and manage your information.
See our terms and conditions (updated for 2021) of payment for a subscription snapshot.
Categories of membership
If you are a brand owner, supplier, distributor, manufacturer or if you fill or pack cosmetic products then you may be eligible for full membership.
As a supplier or manufacturer of raw materials or packing materials, analytical laboratory, safety assessor, claims support laboratory or a supplier of technical services to brand owners and manufacturers you may be eligible for associate membership.
Retailers, wholesalers and online sellers may be eligible for retail associate membership.
Companies who act as the Responsible Person (RP) to external companies may be eligible for compliance associate membership.