The innovative and science-led cosmetics industry undertakes vital work on safety, sustainability, and self-esteem and wellbeing. CTPA works with partners to showcase a conscientious, world-leading industry that truly cares for people and our planet and is constantly striving to improve.
"We must learn from how, as an industry, we were agile when faced with the lockdown challenges. The effects of the global health pandemic will be long-term. Meeting our customers' self-care and wellbeing needs will be so important, but we must and can do this in a sustainable way. We need to avoid the false dichotomy that to flourish as an industry means you have to impact the environment. We are an innovative industry, so now is a great opportunity to build back sustainably and with purpose while meeting our consumers' needs and demands."
---
Representation
As the credible authority for a vibrant and innovative UK industry trusted to act responsibly for the benefit of the consumer, CTPA represents all types of companies involved in making, supplying and selling cosmetic and personal care products and, as the voice of the UK industry, we promote best practice and advise companies about the strict legal framework for cosmetics. Representing industry views to the UK Government and external stakeholders we also provide information to the media on issues relating to the safety of cosmetic products.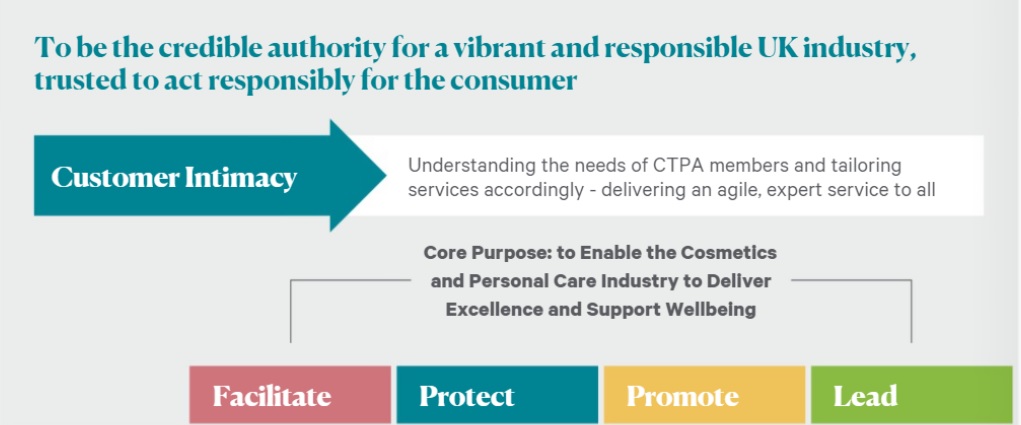 The cosmetics industry is a global industry and CTPA is as an active member of Cosmetics Europe, the European personal care trade association, as well as contributing to the International Associations Collaboration and liaising with our international colleagues in national associations worldwide. This ensures that we can provide our members with the very best up-to-date advice whilst working collaboratively to resolve challenges for the industry.
---
Robust UK Regulatory Framework
Strong relationships with UK Government has ensured that the UK Cosmetics Regulation is fit-for-purpose and correctly implements existing strict requirements, which were transposed from EU law, into the UK structures.  The start of the UK's new relationship with the EU on 1 January 2021 does not mean that over four years of dedicated focus on Brexit ends for the Association.  CTPA will continue to help members to adapt and familiarise themselves with the new requirements, and work with Government will continue as new processes are established; for example, for ingredient management.
---
Sustainability
The cosmetics industry is facing increasing challenges from proposed future UK and European legislation as well as growing demand for, and recognition that, sustainability has to be at the heart of every business operation.  Importantly, as new legislation specific to the UK market is being introduced we are asking the UK Government to ensure that policy, particularly on environmental issues such as plastic waste, continues to be informed by robust scientific evidence.
Consumers should feel good about using our products, not just based on their performance but because there is no detriment to resources or wellbeing by using them.  Minimising the environmental impact of our products will be crucial - innovation in a responsible and sustainable way.
CTPA's strategic objective to deliver the CTPA Sustainability Strategy, 'Driving towards a Net Positive Cosmetics Industry' brings industry together, working in partnership with others to deliver short, medium and long-term outputs. Together with the CTPA's Sustainability Committee, we continue to build our understanding of key issues, identifying and engaging key partners and highlighting how industry is collaborating to act as a hub for system-wide change to help all companies, members and non-members, to work towards this ambitious goal. 
The CTPA's Sustainability Hub is a vital resource providing definitions, legal requirements and related guidance, both external and from CTPA, to help steer companies of all sizes towards making their own roles, products and businesses more sustainable.  The Hub is designed around the three pillars of CTPA's Sustainability Strategy:
Environmental Impacts of Production in the Supply Chain
Waste and End-of-Life Fate
Wellbeing
---
Help for Media and Consumers
CTPA raises awareness of topical issues in a timely fashion through its consumer site, www.thefactsabout.co.uk, providing the media with rapid, scientifically rigorous responses to help them offer balanced reporting on the science behind cosmetic products and to put new research into perspective. Consumers can trust the products they use daily and it is important to explain that the myths and misinformation often found on the internet bear no relation to the safe use of ingredients in cosmetic products under the strict cosmetics laws.