Page last updated 05 May 2020
In light of the recent outbreak of COVID-19 (coronavirus), CTPA is making the following advice and resources available to the industry. 
As the situation develops, this page will be updated with new information as it becomes available.  
COVID-19 - CTPA Survey to Industry
CTPA is launching the CTPA Covid-19 Survey to Industry, directed at the UK cosmetics industry to gain insight into the impact of Covid-19.  Questions in the survey are related to regulatory challenges, supply chain disruption and changes to business operation.  The survey will take between 15-20 minutes to complete.  This information will support continued engagement with the UK Government and single out opportunities for further action in response to the situation.
CTPA urges both members and non-members to participate, and all information gathered from participants to the survey will be treated confidentially and collated anonymously to ensure it is not attributable to any single company.  
The survey will remain open throughout the health crisis, and multiple responses are encouraged if new information is known or gathered which would be relevant.  
---
CTPA COVID-19 Bulletins
CTPA is producing regular bulletins of the way in which CTPA will provide you with the latest developments and assistance from us, the Government and key partners. This page will be updated with each new Bulletin as it is added to the website.
You may view the bulletins here:
---
COVID-19 CTPA Emergency Response Exchange (CERE)
The CTPA Emergency Response Exchange (CERE) will maximise the production and supply of hand sanitisers, soaps, hand creams and PPE. If you have manufacturing capacity but need ingredients, components or supporting services, or if you are a supplier of items needed to manufacture and distribute hand hygiene products or PPE, CERE can make the match.  CERE can also help healthcare providers needing these products.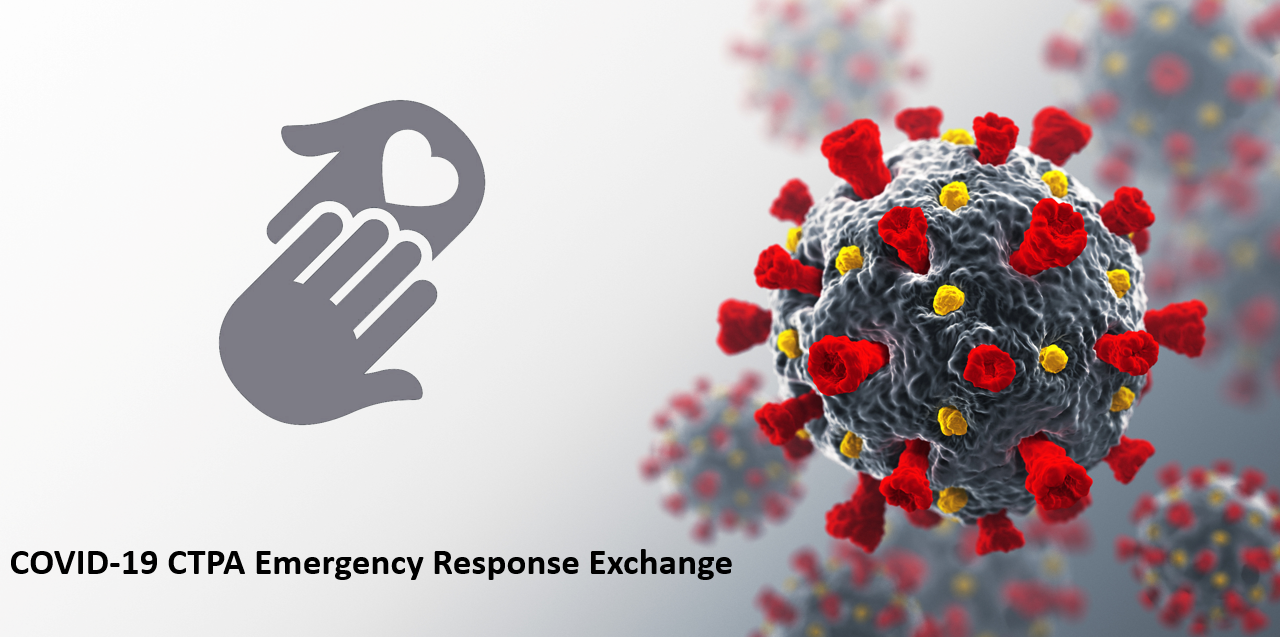 Complete the form here.
---
Hand Sanitisers (Manufacturing/Supplying)
During these concerning times of COVID-19 virus (Coronavirus), while hand washing with soap and water is the best way to protect yourself from infections like Coronavirus, alcoholic hand gels are also a useful defence.  
Whether you are manufacturing hand gels or hand sanitisers in the UK or importing them from another country, there are strict rules that apply to ensure safety and efficacy. 
Please note, it is a company's responsibility to determine the classification of their product and comply with the appropriate legislation.  Further information to help you on this is available in the Legal status section.
Read more on: 
---
Hand Sanitisers (Making at Home)
The idea of people making their own hand gels is of great concern to us at CTPA and to experts in hygiene. 
Consumers may have seen online discussions and suggestions on how to make a hand sanitiser as a way of helping reduce the spread of Coronavirus.  The idea of people making their own hand gels is of great concern to us at CTPA and to experts in hygiene.  It is extremely important not to make such products at home.  Read more… 
---
Hand Washes
The UK Government published a series of documents that include the technical specifications for Personal Protective Equipment (PPE).  In particular, one document explains the technical specifications and regulatory frameworks for hand washes.  As per hand sanitisers and hand gels, hand washes can also be classed as cosmetics or biocides; the classification mainly depends on the formulation, the primary and secondary functions of the products and their overall presentation.  Please review the Legal status page.
---
GMP and Hygiene in Manufacturing
Good hygiene is always a basic requirement of cosmetic production.  Hygiene encompasses plant, process, people, procedures and facilities.  Under GMP, hygiene controls must be in place to ensure that all forms of physical, chemical and microbiological contamination are prevented from entering the product during any stage of manufacturing, storage and distribution.   
There are a number of reference texts on GMP and microbiology that cover the principles and the basic elements of microbiological control, including the following CTPA guidance document: 
---
Further Advice on COVID-19
UK Government Advice (including advice for employers)  
National Federation for Self-Employed and Small Businesses  
CBI Coronavirus: Best Practice for Businesses  
ACAS: Coronavirus: advice for employers and employees 
HM Treasury Help: how to access financial support 
DIT advice for businesses trading internationally
---
FAQ
I want to make a hand sanitiser for sale or supply in the UK? Are their rules I need to follow?
Whether you are manufacturing hand gels or hand sanitisers in the UK or importing them from another country, there are strict rules that apply to ensure safety and efficacy.  See our dedicated page on this topic. 
I am going to be making a hand sanitiser that may be classified as a biocide.  Where can I get help on the Regulations?
A biocidal product must comply with the EU Biocidal Products Regulation.  This is out of the remit of CTPA, but more information is available from the HSE (Health & Safety Executive) website. 
---
In-store Testers
 - For Consideration When Shops Re-open
The Responsible Person must ensure GMP is still complied with throughout manufacture, and to testers available in-store for consumer use, to ensure consumer safety.  This should form part of the defined procedures made available in the Product Information File. 
Duty of care should always be taken for in-store testers in order to minimise the risk to the consumers that apply the product. Additionally, there is more than the product to be taken into account but contact of people with the packaging where viable microorganisms might also survive.  
Actions like ensuring that there is a procedure to review or replace testers under measured conditions (considering not only PAO but estimated exposure to air, environment and people), might also help address the particularities of outbreaks or peaks in certain transmissible diseases. It might also highlight the use of disposable applicators as a solution to prevent further microbial transmission.  For particular products, advice from the safety assessor might determine what requirements the product would have under the in-store conditions and any additional considerations to be taken.