Self-esteem
The work CTPA has undertaken into the issues surrounding self-esteem has been ongoing for many years now including quantitative research, providing the association with expertise on the challenges of self-esteem in modern day society and the range of issues that can affect our perception of self-esteem. This work continues today, as we adopt a listening role and stay in dialogue with families, parents and young people alike to ensure we hear their voices.
In 2004 and 2005 we began our work with two white papers on self-esteem's relevance to our working lives and the wider significance of self-esteem for society. These papers were the first part of an ongoing research that has become the basis of an expertise in understanding the issues and tackling them wherever possible. The contributory factors to self-esteem are complex and far-reaching, and there are many different points of view, which is why CTPA is committed to helping the cosmetic and personal care industry to be a part of that discussion.
These white papers were important to our understanding of self-esteem at the time and still influence the decisions CTPA makes. You can download and read these papers here:
The Self-Esteem Society
This report on research by independent think tank Demos, commissioned by CTPA from July 2004, argues that self-esteem is more important today than ever before. It explains that we lead increasingly open-ended lives, with fewer universal values, where people are responsible for creating their own individuality. However, we live in a society of high aspirations where our self-confidence is regularly tested as we struggle to meet the standards we create for ourselves.
Download report (pdf - 1.12 MB)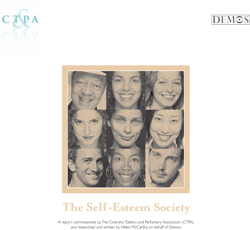 Me, Myself & Work
This report commissioned from think tank The Work Foundation argues that building self-esteem will lead to a more productive workforce in the UK and should be an essential part of social and economic policy. In the current climate the need for high levels of self-esteem has increased to deal with what is considered to be a riskier world of work. In turn, self-esteem underpins a greater desire for new skills through training in order to succeed in the workplace. Furthermore, the report calls for a reassessment of the value of self-esteem to UK Plc - both as a contributing factor to productivity and as an industry in its own right - and for the first time, values its worth.
Download report (pdf 1.7MB)